Interview by:Farah Kanaan
Link to original post: https://www.arizonafoothillsmagazine.com/afm-style-files/scottsdale-fashion-flash/meet-ana-carolina-valencia-and-her-jewelry-collection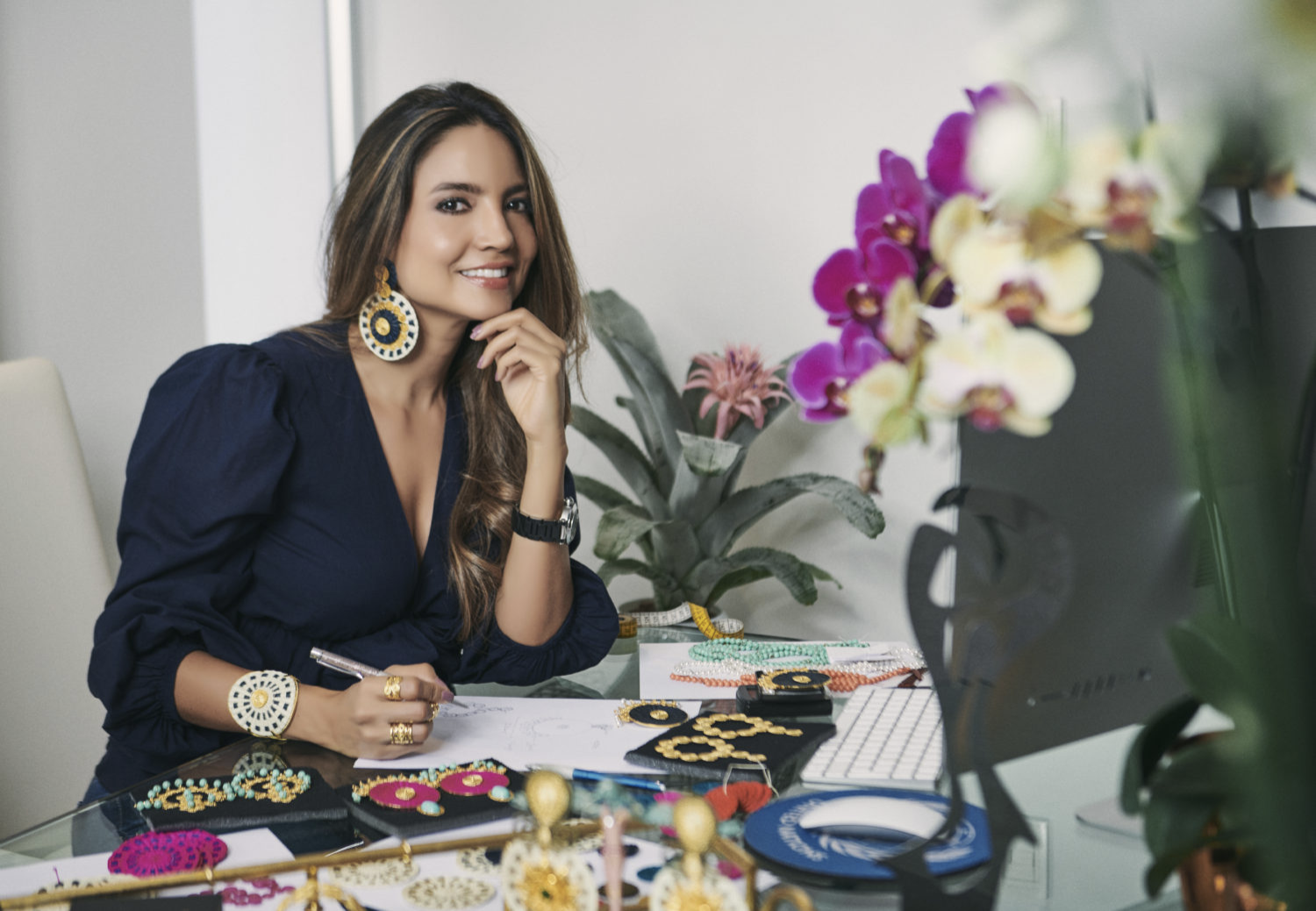 Colombian artisanal jewelry delivered straight to your doorstep. What a nice way to uplift your spirits or those of your loved ones!
Ana Carolina Valencia is a jewelry collection with a distinctive bronze look, harkening artisanal skills of the past to create modern pieces of Colombian beauty.
My inspiration comes from empowered women who have the confidence to show their inner beauty. My Colombian roots are reflected in all of my pieces. I love to showcase Malachite; the green stones reflect my countries beautiful natural environment and pair with the gold sets beautifully.


– Ana Carolina Valencia
Sourcing raw materials throughout Colombia, the brand takes the traditional filigree technique (a European process practiced for centuries) and made it their own.
The result is earrings, necklaces, rings, and bracelets that are worn as pieces of art. Exquisite detail, fine materials, and artisanal mastery combine to create jewelry unlike any other.
The integration of raw Colombia emeralds, mother of pearl, quartz, Swarovski crystals, and other mixes of materials make for a stunning accent to any wardrobe. Wearable art at its finest.
It takes anywhere between a day to two days to create one set of jewelry. We love to handcraft our pieces so that each piece of jewelry has its own unique design.


– Ana Carolina Valencia
Like the women who wear them, the pieces are original, bold, and display an air of chic confidence. Take a look.
Limited edition handmade pieces in bronze, using filigree technique, 24K gold-plated, and nickel-free
Stunning materials from mother of pearl to abalone shells and emeralds, and so much more
Several designs include Poporos that are traditional Pre-Columbian pieces of art reminiscent of the richness of Latin American culture
Hoops, studs, and ear cuff designs
Prices: Starting at $62 (studs)
Limited edition rings with adjustable sizing
Leaf and floral signature filigree designs
Pair with earrings, necklaces, and bracelets from the collection
Beautifully sourced Colombian raw materials
Prices: Starting at $47 (mini-ring)
Chokers and necklaces in limited-edition offerings
Available in such beautiful colors as white pearl, pearl and turquoise, pearl and rose, and pearl mixes
Matching earrings, bracelets, and rings
Prices: Starting at $134
Original designs that beautifully accompany other pieces in the collection
From chain creations to single and double bracelets
Arabian, tropical, shell, and floral influences
Prices: Starting at $171